Workers (ワーカー) are a race of intelligent mechanical lifeforms inhabiting the desolate world of Luminous Avenger iX 2. They are descended from labor robots created by humanity, in particular a mysterious figure known only as the "Creator", to restore the barren environment, and by default are friendly to humans. Many Workers have humanoid frames, with a particular generic model serving as a basis.
Although they no longer serve their original purpose due to humanity extinction some time ago, they still refer to themselves as Workers. Using their skills intended to recreate an environment suitable for mankind, they have adapted to using human infrastructure. Later generations developed cultural traits like nicknaming things. Many Workers are fans of Lola after she ended up in their world and continued her singing career.
Despite their intelligence and personality growth potential, Workers may still be bound to fulfill whatever "command" they were originally given, even if they have come to view it as futile.
Gravekeepers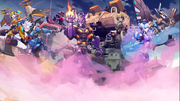 The Gravekeepers (墓守) are a group of special Workers tasked with guarding the Grave Pillar left behind by the Creator, which hosts environmental simulations and testing for restoration, and is said to store all the world's knowledge deep within. Both "Grave Pillar" and "Gravekeepers" are nicknames given by later generations of Workers.
Members