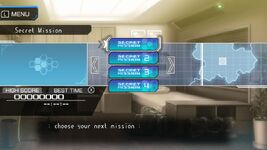 "Welcome to this living hell, my friend. Do not fret over your inability to do more. Instead, give in and accept one final despair."
—Flavor Text
Secret Missions are a set of missions in Azure Striker Gunvolt 2, code-named Ultimatum. They are unlocked after completing the stage "The Garden 4", and consist of the opposing character's intro stage and three unique boss stages, for example allowing Copen to go through Data Facility. The final mission however, is indeed a boss rush of every boss in the game.
As with the previous game's Special Missions, Anthem is disabled.
Briefing
Mytyl: "Welcome to the Secret Mission! Okay, so I kinda need to apologize in advance, but... I can't use The Muse's song to bring you back here."
List
Copen
Gunvolt
Japanese Mission Descriptions
"One more possibly that might've existed… Is it a dream the saint (girl) had? Is it reality? Is it an illusion? The world is fleeting dangerous, just like erratically combined mirrors…"
—Flavor text for Secret Missions 1-4, "Mirror World (Memories)"
"In the core of the rotting altar (world)… The pure souls shimmer and bark again… "We only wanted to be like that"…"
—Flavor text for Secret Mission 5, "Nightmare (Mother)"