We're Getting Mutants in the MCU - The Loop
Play Sound
"If I had my way, I... I'd go out into the world! And sing my song!"
—Joule, Azure Striker Gunvolt: The Anime
Joule is a major character in the Azure Striker Gunvolt series. She is an artificial Adept created by the Sumeragi Group with the implanted Septima known as The Muse, which gives her the ability to detect and empower other Septima. Having spent most of her life in Sumeragi's clutches, she is eventually freed by The Azure Striker, Gunvolt.
Website Description
The heroine of the story is a 13 year old girl named Joule.
She is the first ever synthetic Adept, created by Sumeragi Group in their laboratories. Her Septimal power, known as the Muse, allows her to enhance the powers of other Adepts through songs usually projected by her alter ego, a virtual pop idol named Lumen.
She is rescued from the clutches of Sumeragi by Gunvolt, at which point the two of them begin to live together.
[1]
本作のヒロインである13歳の少女。
皇神(スメラギ)の実験によりつくられた第七波動(セブンス)能力者。
第七波動(セブンス)は"歌"によって他の能力者の
第七波動(セブンス)に共鳴し、その能力を高める
精神感応能力"電子の謡精(サイバーディーヴァ)"
皇神(スメラギ)グループにより、実験体として
幽閉されていたところをGVによって救出され、
以降はGVと共に同じ家で暮らすようになる。
純粋で大人しい性格だが、GVに対しては
ある程度砕けた態度で接する。
Joule exists completely in the form of a spirit residing inside Gunvolt's body. She once existed as a young Adept girl, but upon her untimely death, her spirit was released from her physical body and now exists only in that form.
Once a very shy girl, she has become much bolder since the events of the previous game, in some ways becoming more like her former alter ego, the virtual pop star Lumen.
Her Septimal power is The Muse, which enables her to fully synchronize with Gunvolt and increase his abilities through the power of her singing.
In her previous form as Lumen, she had a more adult-like appearance, but after a certain incident, she lost a large amount of her power and her appearance changed into a more child-like form.
元は第七波動能力者の人間だったが、
現在はGVの内に宿る魂だけの存在。
肉体という檻から解き放たれた彼女は
生前よりも奔放な性格になっている。
第七波動は、歌うことでGVとシンクロし、
彼の能力を高めることができる"電子の謡精"。
とある事件によって力の大半を失い、
普段は手の平サイズにまで縮んでしまっている。
GVとのシンクロ率が高まった場合など、能力が
活性化した際は人間サイズになることが出来るが、
それでもかつての姿より幼い姿をとるのが
精一杯なようだ。
Appearance
In Azure Striker Gunvolt, she is a young teenage girl with red eyes and light purple hair, with a large ahoge on the top of her head and two long, slightly darker strands of hair. She wears a short pale blue dress with cream highlights and three zippers on the front, with matching shoes. She has two metal bracelets around her wrists.
In Azure Striker Gunvolt 2, Joule's appearance changes to become virtually identical to her former alter ego Lumen. After her loss of power, her appearance changes to be much more child-like.
Personality
In contrast to the confident, mischievous Lumen, Joule is a rather shy, withdrawn girl. Held prisoner since her creation, she fell into a depression, both because of her lack of freedom, and the pain and suffering caused by her Septima.
When she meets Gunvolt, who breaks her out and takes her into his home, she becomes much more cheerful and active, much like one would expect of her age. She also has developed strong feelings for Gunvolt, though she fiercely denies this.
She also displayed some lack of knowledge regarding the world or society given how she had spent most of her life as a test subject: despite this, some Sumeragi scientists who sympathized with her, used to provide her with things to expand her knowledge such as a poem collection.
In Azure Striker Gunvolt 2, Joule has been emboldened by her perpetual connection to GV, even acting a little like Lumen on occasion. Not even being shattered by Zonda is quite enough to bring her down. She gets jealous when GV and Quinn Sakurazaki have anything resembling a moment together, and gets nervous if it seems like they are becoming closer.
She also sulks a bit about no longer having a physical body, meaning she can't perform activities like hugging GV or cooking for him. She appears to dislike Quinn at first, seeing her as a rival for GV's attention, but gradually warms up to her.
Plot
Joule was created in Sumeragi's laboratories as an artificially made Adept.
Her Septimal power, known as the Muse, had the unique ability to make Adepts resonant, increasing their power and making them easy to track.
To take advantage of this, Sumeragi planned to use Joule in Project Muse, a venture headed by Lieutenant
Nova Tsukuyomi
, to control all the world's Adepts.
Azure Striker Gunvolt
Rescue from Sumeragi
At some point, the anti-Sumeragi resistance group QUILL attempts to destroy the Muse. Sending Gunvolt to do the job, he is surprised to find that the Muse is a girl, Joule, and not a computer program as initially thought. Despite his orders to kill her, Gunvolt leaves QUILL as a solo agent and takes Joule into his care.
Joule can only see Gunvolt as an angel, the sparks of his Septima looking like azure feathers. From that point on, Joule, deeply grateful to him, would serve as Gunvolt's moral support as he is tasked with defeating several Sumeragi officers.
Recapture
After Gunvolt finishes his final mission, he comes home. Joule welcomes him, but then, Merak, one of the Adept officers Gunvolt defeated, appears out of nowhere and kidnaps Joule.
Gunvolt gives chase, but loses them as Merak takes Joule to Firmament, back to Nova.
Betrayal (Bad End)
Furious, Gunvolt heads to Firmament and finally encounters Nova, who has hooked Joule up to a machine that grants him full control over her Septima. Using his newfound power as well as his Septima, he attacks Gunvolt, at one point even merging with Joule to become a monstrous, God-like entity.
Eventually, he is beaten, and Joule is set free. As she and Gunvolt leave, they find Asimov, the leader of QUILL, waiting for them. He proposes that the two of them join him in his quest to destroy all non-Adepts, now that the Sumeragi Group is in shambles.
However, when the two refuse, Asimov simply pulls out a gun he stole from Copen, and shoots the both of them.
New form (True End)
However, Joule awakes soon after in the body of Lumen. She realizes that her consciousness was transferred to Lumen, her Septima, when she died. Seeing Gunvolt, she is surprised to see him wearing the pendant she gave him, which happened to stop the bullet, saving his life.
Thinking quickly, Joule enters Gunvolt's body, reviving him and pushing his power beyond his limits. They then set off to stop Asimov.
After a quick fight with the resurrected Adept Carrera, Joule and Gunvolt find Asimov on the orbital elevator, Babel. Mildly impressed that Gunvolt is still alive, Asimov engages Gunvolt in combat.
After a lengthy battle, Asimov is killed just as the elevator hits the ground, revealing Gunvolt's QUILL allies, whose questions he ignores as he walks past. Joule reminds him that it's just the two of them now as they both disappear into the distance.
Azure Striker Gunvolt 2
Anthem's Encore
Gunvolt infiltrates the Sumeragi airship - Seraph with Joule following suit. Midway, Joule activates her Anthem to let GV rush to the control room, keeping her song going even through a strange Septima's effects and a fight with a Sumeragi Plasma Legion.
However, even the enhancements by her Anthem can't help GV bypass the code's protections.
We interrupt this Anthem to bring you...plot
When GV comes face to face with a robot keeping a girl hostage, an interference begins to fray Joule's link with GV and cuts off the Anthem.
Even after GV saves the girl, she feels uneasy just looking at her, not to mention slightly jealous at how much attention GV is paying to this girl. When reminded of the Seraph's malfunctions, Joule reactivates Anthem to help GV stop the ship from crashing.
Pop goes the Cyber-Diva
Joule's link with GV continues to fracture and break, preventing them from stopping the Seraph. Only by Copen and Lola's intervention are they able to move the airship safely away. Afterwards, Joule ends the Anthem as Copen suddenly moves forward to attack. Joule doesn't appear again until Zonda suddenly shows up behind GV and materializes to protect him.
But then, Zonda traps Joule in one of "his" mirrors, which Tenjian shatters. This converts Joule's power into 9 fragments and knocks her out. After GV and Tenjian duel, Joule somehow manages to salvage her conscious, though her reduced powers have forced her into a childlike form.
Piece Back Together
The shards that Eden stole from Joule each contain a portion of her power. To get Joule back to tip-top shape, GV has to defeat The Seven and take their shards back, as well as reclaim the one shard in Copen's possession.
While this goes on, she and GV continue to live in Quinn's home and interact, though she gets jealous of the time Quinn and GV spend together.
Her Song, His Heart
When GV and Joule finally make it to Zonda, Zonda uses Mytyl to somehow take all of Joule's shards, shattering her for good.
However, her last words, telling GV that her song is always within him, give him the strength to overcome Zonda's new power. But even with Zonda's defeat, Joule still doesn't come back.
"My Song Will Protect You"
As GV and Copen clash for the final time, Mytyl's body rises into the air. Joule materializes beside her, along with Lola, who's been hijacked by an unknown force.
They all begin to sing their Anthem, granting strength to the two who fight below, but remaining silent to their queries.
Mytyl...or Joule?
In one fashion or another, Joule fused with Mytyl, resulting in a girl that looks like Mytyl with Joule's original hair color. She quickly intervenes in the fight between Copen and GV, but just as suddenly, she asks who the two are, and who she herself is.
A side effect of Mytyl and Joule's fusion was that the completed body would have neither of the two's memories or personalities. In that sense, Joule is truly dead and gone.
"Are You An Angel?"- True End
There might still be a little bit of Joule still locked within Mytyl's unconscious mind. In Gunvolt's ending, Mytyl asks GV from out of the blue "are...are you an angel?"
But that might just have been a flicker, as Mytyl herself is unaware of where that particular question came from.
Other Appearances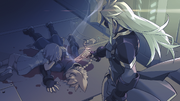 An alternate universe version of Joule is briefly mentioned in Luminous Avenger iX, having been killed alongside Gunvolt by Asimov. Not letting go of his plan, Asimov would have Septimal Inducers extracted from her corpse and returned to Mytyl Kamizono to create a new "Queen" piece: the Butterfly Effect.
Joule appears as a playable DLC character in Mighty Gunvolt Burst, where she can use her songs to access different abilities.
She appears as a collectible sticker for clearing "Not Even a Scratch" challenge without taking any damage in a stage.
Blaster Master Zero
Joule makes a cameo appearance in Blaster Master Zero as part of Gunvolt's DLC. To reach her, players must require Wall Climb in Area 6 and heading to Area 1. At the start of Area 1 before entering the route to Area 2, the player must use Wall Climb on the tree trunk and climb until there are some floating platforms and follow them until they could find Joule on a large floating platform. Upon reaching her, Gunvolt will learn Voltaic Chains from her. She then disappears afterwards. Joule won't appear in other playable characters' gameplay.
Blade Strangers
Joule appears in Blade Strangers along side Gunvolt in the story mode segments. She makes some comments about Gunvolt's opponents.
Abilities
Joule possesses a form of psychic ability in her Septimal power, allowing her to cause a resonance within the powers of other Adepts. Her lack of control over it led to the power manifesting with its own form and will, named Lumen. Sumeragi used Lumen as a virtual idol to locate adepts for capture, as well as keeping Sumeragi Adepts in line by essentially drugging them with power-high inducing music. Joule's Septima uses Lumen's songs as a medium to interfere with other Adepts' consciousness. It's a consciousness induction ability.
It's one of the derived lines of the "electron-controlling Septima" that was discovered during the process of the Thunder Adepts mass production scheme, "Project Gunvolt". This Septima is said to have a very close relation with an Adept's consciousness state, and if it's someone whose got Joule-Lumen's wavelength, it can increase their Septima by encouraging their consciousness. When GV gets into a dangerous state during his battles, Lumen's song "Anthem" activates his abilities and bodily functions. That's because his Septima "Azure Striker" and "The Muse" have a very close nature, and is cited as the biggest reason of why that phenomenon takes place.
When Adepts listen to Lumen's songs, Sumeragi can detect a special interference wave, so they use this power as a sonar to track other Adepts' locations. It's established that a lot of adepts were discovered through this ability, and were forcefully imprisoned by Sumeragi's deployment unit. A Septima with a personality of its own is an incredibly rare case, and no other similar cases have been confirmed across history. Sumeragi scientists had expectations that it could become the key to a lot of still unknown portions of the Septima.
She also displays cyberpathy, once using it to hack a MMORPG to maximize her player character to the highest level and pretty much cheat the RNG in her short story. She apparently has minor craftsmanship skills, as she can make Gunvolt a pendant if he collects seven gems and gives them to her (which unlocks the True Ending of the game).
After her fusion with GV, she is apparently capable of further boosting his abilities. After an incident in the second game, she becomes severely weakened to the point of taking a child-like form, but is still able to support GV using her Anthem.
Designer Comments
Source: Armed Blue: Gunvolt Complete Works
The initial team members that were there before I joined the "Gunvolt" team had come up with tons of ideas, but Cyan's (design) almost wholly reuses one of the heroine drafts they'd made. I wanted to add her some type of mystery and common traits with Morpho so I added a small long bang-like hair to her. Morpho is an important character, since she's in charge of the "songs" which are one of the game's selling points. Thus her design involved a lot of trial & error. Her in-game role of making the players dance and revive them through songs was settled from the beginning (of planning) but there were no other starting points apart from it so I spent several months stuck, and her design (process) didn't make progress. I remember that, when it was decided that her name was "Morpho", I quickly established her image as "a songstress with butterflies motifs". Butterflies are a symbol of resurrection and the cycle of resurrection and so it perfectly fit with her in-game role. Another facet of her is that she's the embodiment of what Cyan thinks, her "how I'll look like when I grow up, my ideals and longings".
-- (Hatakeyama Yoshitaka)
For Cyan, I used Itou-san's ("Gal Gun" Character Designer) design as a base, and had Hatakeyama-san improve it: and he produced the final version. Regarding Morpho… I thought I could contribute to Hatakeyama-san's design production work and so I also produced a lot of drafts. Once the keywords "blue", "Japanese", "songstress" became clear I produced some other drafts and we settled on a design as we talked over them. I fought with a lot of maiden-like designs yet, in the end, I ended up (creating) a pretty simple (design).
--
(Araki Munehiro)
She became one with Morpho in the last (stage) of the prequel but, in this installment, she's lost her power and shrunk. I'm making her face resemble that of Cyan in the prequel. I am prideful that I could make Morpho gorgeous with her long sleeves, hair and feathers but she was too big, hard to fit on-screen and, easily, the hardest to draw: those were things to be fixed. And thus this installment's Cyan was a task within me: I wanted to make her a simple as possible yet gorgeous and pretty. As a result I went ahead and got rid of her sleeves. However, looking at it again now… I might've over-simplified her. I do think she's cute, but… At the start of development she had a placeholder name of "small Morpho" and I firstly made a 2-heads high mascot character-like design but was quickly discarded (laughs).
--
(Hatakeyama Yoshitaka)
僕が「ガンヴォルト」チームに加入する前に初期メンバーの方々が大量にネタ出しをされていたのですが、シアンはその中のヒロイン案の1つをほぼそのまま使わせてもらっています。
ある種の神秘性をやモルフォとの共通項を入れておきたかったので、一部分だけ色の違う触覚のような髪の毛を追加しました。
モルフォはこのゲーム売りの1つでもある「歌」の部分を担うする重要な存在なので、デザインもかなり試行錯誤を重ねています。
歌でプライヤーを鼓舞したり復活させたりするというゲーム上の役割は初期から決まっていたのですが、それ以外に取っ掛かりががなくデザインが進まないという状況は数ヶ月つ続しました。
そんな中で「モルフォ」という名前が決まってからは、「蝶モチーフの歌姫」として一気にイメージが固まったのを覚えています。
蝶は復活や輪廻回生の特徴なので、ゲーム中の役割にもピッタリとハマったわけです。
また、シアンが考える「自分が成長した姿、理想や憧れ」を体現しているという面もあります。

-- (畠山義崇)

シアンは伊東さん(「ぎゃる・がん」キャラクターデザイナー)のデザインをベースに、畠山さんのほうで調整してもらってものがそのまま完成版になっています。
モルフォについては、畠山さんの案出し作業の足になればと思い、僕のほうでもいろいろ案を出していました。
青色、和風、歌姫などのキーワードが明確になったあたりでさらに別案をいくつか出し、相談しながらまとめてもらいました。
数々ある巫女っぽいデザインとの格闘しながら、最終的にはだいぶシンプルなりました。

-- (荒木宗弘)
前作のラストでモルフォと一体化した姿になったものの、力を失い縮んでしまったのが今作のシアンです。顔つきは前作のシアンに寄せています。
モルフォは長い袖や髪の毛、羽などで華やかにできた自負はあるのですが、大きすぎて画面に収まり辛かったり単純に描くのは大変すぎるとういう反省点がありました。
そこで、今回のシアンでは極力シンプルに抑えつつ華やかさや可愛さを出すというのが自分の中では課題としてあり、思い切って袖など取ってみたりしました。
しかし、今見ると少しシンプルにし過ぎたかもしれませんね。可愛さは出ていると思いますが...
開発序盤では「ちびモルフォ」という仮の名前が付いていたので、最初は二頭身のマスコットキャラのようなデザインを出したのですが、あえなくボツに(笑)

-- (畠山義崇)
Early Draft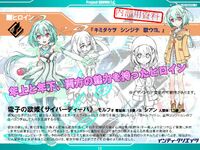 In 2013 an early draft of Joule's character concept was submitted to Nintendo[2], with a number of factors that were changed in the final version. Below is a translation of the submission contents.
Big text: A heroine with the charm of both adult and youth
White text above Feather (QUILL) logo: Heroine
Slogan (right side, inside of orange frame): "I ONLY BELIEVE YOU AND SING FOR YOU"
Design subject to changes
Description: Cybernetic Singing Fairy (Cyber Diva). Morpho, Cyber Version: 18 / Female. Cyan, Human: 13 / Female. A man-made Virtual Idol who has enormous popularity in the real world, called an entertainer idol. She guides people as a propaganda (tool) of the Sumeragi Concern. Her songs have the special ability to resonate with 7th Wave, and it contributed a lot for Sumeragi, who used her as part of its strategy to find matches (core donations) who resonate with her songs from within civilians. Gunvolt is able to open up her heart to activate a resonating effect that overcomes the limitations of his own abilities. At first, Gunvolt thought she was but computer data and took part in a mission to destroy her. When he reached the system that he had to destroy, he learned that the human girl linked to it was the core of it, he was unable to kill her and took her away from that place.
Trivia
She dislikes spicy food, and loves sweets like sweet bean jelly.
Joule's name comes from a unit of energy known as a "Joule".
Joule's characteristics is likely based on Ciel and Dark Elf in the Mega Man Zero series

Both Ciel and Joule are their games' heroines respectively.
They developed romantic feelings to Zero and Gunvolt respectively.
They also have extraordinary abilities through artificial means.
Their voice actors are also singers.
Both Dark Elf and Joule have fairy motifs.
They are also the targets of their games' antagonists, due to the usage of their extraordinary powers.
They were once captured and remolded by their games' antagonists.
They are also once saved by Zero and Gunvolt respectively.

Once Joule merges with Gunvolt, it becomes unclear what the criteria is for being able to see and hear her, with only a select few being about to do so. This includes Gunvolt, Asimov, Carrera, Quinn, Zonda and Tenjian.
Some speculate that because in Luminous Avenger iX her body was preserved and her septima factors could be extracted and returned to Mytyl, her body didn't truly vanish in GV1. Instead, because she is a "Living Glaive", it may have merely teleported away like those of the Sumeragi Adepts upon their first defeats.
References
See Also