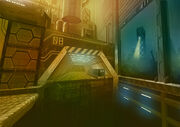 "An abomination controlled by a monster. This cadaver of metal is an affront to mankind. It shall fall before the power of science." - Flavor Text
Intro
The Isle of Dreams is one of Copen's stages in Azure Striker Gunvolt 2. This island contains an abandoned waste-processing factory that Eden is using to cobble together weaponry. Copen's objective is to shut this operation down.
Briefing
Puppeteer
Nori: Eden agents have taken over an old waste-processing plant. They restarted the machinery and are now taking parts inside. I'm just guessing here based on what we know, but... I think they're using the parts plus old junk to make weapons.

Copen: They're making weapons from garbage? That seems stupid.

Nori: Yes, but combine it with a septima, and who knows?

Copen: Doesn't matter in the end. I'll crush them regardless.

Ultimatum 3 (GV)
Mytyl: Welcome to the Secret Mission! Okay, so I kinda need to apologize in advance, but... I can't use The Muse's song to bring you back here.

Stage Composition
There are wrecked Sumeragi robots lying around. Some of them may spring to life, controlled by Asroc's Septima.
The conveyor belts carry around really sharp piles of scrap. Touching them hurts, but they're too low to shoot normally.
There are a variety of grinders in the factory that act as spike pits. Needless to say, falling into them would be bad.
Asroc is fought twice.
If you defeat Gran Torta after destroying its arms, or destroying the arms and head simultaneously, you will gain 333 Kudos as a "Secret" bonus. Defeating all 3 parts at the same time will count as a Triple if you're playing as GV, and an Aerial-3 if playing as Copen, and yields a total of 2583 Kudos as Copen.
Challenges
Iron Forest: Clear within 11 minutes. (Reward: Garnet x5)
Witchcraft: Clear within 7 minutes. (Reward: Ultradense Magnet x1)
Glazed Puppet: Clear with Rank B or higher. (Reward: Quartzite x3)
Bruleed Marionette: Clear with Rank A or higher. (Reward: Electrum x3)
Caramelized Cemetery: Clear with Rank S or higher. (Reward: Shock Response Plate x1)
Workplace Inspector: Defeat 60+ enemies in one run. (Reward: Graym Culture x3)
Cut the Strings: Defeat Asroc while Galette Krone is shut down. (Reward: Polymer Gm238 x5)
Abandoned Factory: Obtain all 5 medals and clear the stage. (Reward: Garnet x10)
Unwound: Clear 3 times. (Reward: Ultradense Magnet x2)
Trivia
Gunvolt can also optionally go through this stage after the game is complete, as his version of Secret Mission 3.
Community content is available under
CC-BY-SA
unless otherwise noted.