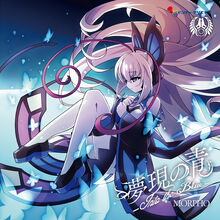 Into the Blue is a soundtrack made for Azure Striker Gunvolt 2 by Inti Creates.
It contains all the songs sung by Joule over the course of the game, making it ASG2's equivalent to Azure Phosphorescence.
It is one of many OSTs released for the series, with the other Azure Striker Gunvolt 2 ones being the Armed Blue Gunvolt: Claw Soundtrack and Electro Rotation, Lola's equivalent to this soundtrack.
This track went on sale in Japan for 2,000 yen on November 3rd, 2016 with a 12-page full-color booklet included with purchase. Those who are a part of Inti Direct could purchase it as soon as October 27th.
The booklet contains artwork and illustrations of the world of ASG2.
It also contains a comprehensive timeline of the ASG series, including drama CDs, Dengeki Nintendo stories, and Fleeting Memories.
Tracklist
Edit
Indigo Destiny
Vast Circle
lolite
Parallel World
Multi-Universe
A Flash of Azure
Reincarnation Alternative
References
Edit