Looks like this is still under construction.
This page is currently incomplete, you can help by adding a few sentence(s) or image(s)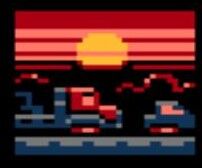 Highway is the third DLC stage of Mighty Gunvolt. It is based off of Mighty No. 7's Highway stage from Mighty No. 9. The theme is an 8-bit rendition of Lightning Pierces Through. The boss is Mighty No. 7 Brandish .
Gallery