We're Getting Mutants in the MCU - The Loop
Play Sound
"I'm going to fight for her. The same way you once fought for me."
—Gunvolt , Azure Striker Gunvolt: The Anime
Gunvolt, "The Azure Striker", also known by his nickname "GV", is the main player character and the eponymous protagonist of the Azure Striker Gunvolt series.
After years of experimentation at the hands of the Sumeragi Group, he was freed by the resistance group QUILL, whom he served for a number of years, before he met a young girl named Joule in a similar situation. Taking pity on her, Gunvolt left QUILL and vowed to protect her as her guardian.
He is an Adept with an affinity for the Azure Striker Septima, which grants him the ability to generate and manipulate all forms of electricity.
Website Description
Appearance
In Azure Striker Gunvolt, Gunvolt is a young teenager with somewhat spiky blonde hair and blue eyes. He uses a black gun with white gatling with a blue sphere. His costume is blue with a few black details. In the 3DS version, he wears a black shirt. In the PC and Switch version, it exposes his abdomen. He also sports black boots with glowing blue highlights.
In Azure Striker Gunvolt 2 Gunvolt now has a longer ponytail, with purple, pink and blue colors on the end of it. His coat is a much darker blue with small black stripes with a white and blue neck brace.
In Azure Striker Gunvolt 3, Gunvolt has a coat similar to the second game, but with a shade of blue more similar to the first game, a bright blue belt, with the Sumeragi symbol on the back, and gray boots and gloves with blue highlights. In his sealed form, Gunvolt resembles a blue raijū, has blonde bangs, his tail is similar to his ponytail in his normal form, and has a red collar. The form that resembles a puppy with yellow fur and is wrapped in a blue ribbon with a padlock, while referred to as Pupvolt, has been called a "wholly separate character", so it is unclear if it's actually a real form of GV.[2]GV's unsealed form resembles a massive blue-scaled dragon with horns similar to his Raiju form, and butterfly wings reminiscent to Lumen's.
Personality
Gunvolt is a serious, straight-laced and compassionate youth. He has a strong sense of morality and justice that will not be compromised. This is first indicated when he was willing to abandon QUILL when his orders to eliminate Joule opposed his principles. He also believes in the co-existence of Adepts and humanity and does not favor one over the other, as he is willing to combat humans who are willing to enslave and persecute Adepts for their personal gain as well as Adepts that feel vindicated in their desire to eliminate mankind out of both revenge and perceived superiority.
On the battlefield, he tends to be merciless to his enemies and hides his emotions behind a placid facade, however he does display remorse for his actions when he is forced to kill and will often try to reason with his combatants to avoid the possibility of their deaths. While normally serious, he can sometimes be facetious on missions and has a humorous side - such as admitting that he practiced his famous pose (when charging septimal energy) in front of a mirror because he thought it was cool.
While he is portrayed to be highly intelligent for his age, he is also shown to be quite dense when it comes to the subject of women.
Plot Role
Other Appearances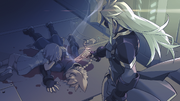 Gunvolt Chronicles
An alternate universe version of Gunvolt is briefly mentioned in Luminous Avenger iX, having been killed alongside Joule by Asimov. His corpse is later harvested for "Azure Striker Septimal Factors", which would eventually be transplanted into Blade.
Gunvolt appears as a playable character alongside other Inti Creates characters Beck and Ekoro in the 8-bit spin-off game.
Gunvolt returns as the playable character of the sequel to Mighty Gunvolt, alongside Beck once more, having been sent to a strange virtual world.
Blaster Master Zero
Gunvolt appears as a DLC "EX character" in the game Blaster Master Zero, being the first of multiple characters, announced alongside Ekoro. He uses his electric powers like Prevasion and Flashfield, and has access to special moves like Luxcalibur.
Runbow
Gunvolt, along with several other noticeable indie game characters, appears as a playable character in the racing game Runbow.
Indie Pogo
Gunvolt, along with several other Indie characters appear in the game from Lowe Bros. He will be free DLC.
Blade Strangers
Gunvolt is a playable character in the fighting game from Nicalis. He has the lowest HP in the game.
Powers and Abilities
Azure Striker
As a human attuned to the septimal stage of the Lifewave, Gunvolt is an exceptionally powerful adept whom is capable of harnessing the Septima known as the Azure Striker, which just so happens to be the source of his title; said moniker handed down from wielder to wielder.
The Azure Striker was the very first Septima discovered by humanity, uncovered within a jungle within South America according to Asimov, the user of the Azure Striker before Gunvolt.
In essence, the Azure Striker enables the adept whom harnesses its might to freely control electricity, and in an age that was dominated by technology, the Azure Striker was dubbed the ultimate power. Ordinarily, an Azure Striker unleashes enormous bolts of lightning to strike their foes down and manipulates magnetic fields to move at high speeds.
The Azure Striker Septima was the cornerstone of Project: Gunvolt, a top-secret experiment by Sumeragi that would allow them to mass produce adepts with electric Septima as part of their research into energy sources after having pushed more conventional methods of generating electricity to their limits.
As such, the powerful conglomerate replicated the gene for the Azure Striker Septima, using Project: Gunvolt to implant into test subjects with high levels of compatibility. Gunvolt is one of the few survivors of Project: Gunvolt, which his code name comes from.
Sky-blue electricity coursing throughout his veins, Gunvolt has shown to be one of the most powerful adepts in the setting, perhaps best displayed that aside from some outside interference, he managed to defeat eight high-ranking adepts whom worked for the Sumeragi Group in the first game.
Apart from its straightforward attack ability, the Azure Striker can significantly increase bodily abilities by turning an adept's biological current active.
It's capable of covering the body's surface with a thin EM field film (shield) which protects one from all types of attacks: this film acts as a barrier, the Flashfield. It also allows controlling (hacking) electrical devices from the outside. They say that it hides power which can be used in all kinds of situations.
As Zonda in Sumeragi form is stated to be as powerful as Nova and Gunvolt himself, with Gunvolt later prevailing over both adepts, it could be said that Gunvolt's power level is in the upper tiers in the series, commonly achieving victory in spite of the odds stacked against him, something best seen in the final battles of both games.
In terms of combat prowess, Gunvolt commonly utilizes his Azure Striker septima in tandem with his marksmanship skills as his main fighting style, creating a deadly combination that most unmatched opponents are incapable of circumventing.
Gunvolt also regularly trains in a form of martial art known as Chatan Yara Kushaku.
Additionally, Gunvolt has displayed that he is able to use his Flashfield to achieve hovering for a short amount of time, disperse the enemy's defenses, as well as most obviously, harness the Flashfield to protect him from physical projects such as bullets and solve puzzles that he happens to encounter such as move floating platforms and float with the assistance of magnetic ceilings.
Gunvolt's greatest ability with the Azure Striker septima is known as Prevasion, which involves his existence momentarily shifting from flesh to electricity, thus effectively turning him physically intangible as to allow all kinds of incoming strikes to pass through his body as if it did not exist, a cascade of feathers following his motions while neutralizing the attacks of his enemies.
Originally, Prevasion caused Gunvolt to recoil ever-so-slightly in the first game and he required certain pendants to enable utilization, but after the events of the conflict with Sumeragi, Gunvolt seems to have gained a greater level of control over the ability, simply appearing as two phantasmal copies of himself that converge as once upon contact and no longer requiring tools to use Prevasion.
Other uses Gunvolt has displayed with his septima involve using the Azure Striker to stimulate his natural healing abilities through bioelectric currents, increasing certain aspects of his power, enhancing physical attributes such as his speed, strength and endurance as well as granting him the ability to perform double jumps as to extend the time spent airborne, dashing within the air with the same ease displayed by rushing forth on the ground, and many more.
Like every other adept with a perfect connection with the Lifewave, Gunvolt is able to invoke Skills, which are specialized techniques that make the most of his septima, accompanied by skill names and elegant haikus. Gunvolt's skills normally involve him shaping the blue lightning manifested by the Azure Striker power, constructing a myriad of formations out of solidified electricity, such as creating small-to-medium-sized spheres that can circle him or are simply projected before him, pillars of lightning that zap everything above and below him, enormous swords of azurite that he thrusts forward, and most notably, electrifying chains which ensnare everything in sight in a crisscrossing motion, fatally electrocuting anything they come into contact with; though Skills come in two flavors, Offensive Skills, which are geared towards doling out immense amounts of damage, and Support Skills, supplementary powers that bestow upon him incredible supportive properties, such as increasing damage output, recovering from the full expenditure of energy, and many more.
However, a weakness to Gunvolt's power is that once his Electro Psycho (EP) energy has been exhausted, he will enter a state known as overheating, where he is incapable of channeling septimal energy, which remains in effect for approximately one second.
Interestingly, Gunvolt's abilities with his Azure Striker septima appear to run off two separate power sources – the Prevasion and Flashfield are drawn from EP energy, and his special skills are derived from Skill Points, with each skill having a varying cost.
As a side note, if Gunvolt has his EP energy depleted at any time, he is able to recharge his energy manually by concentrating deeply and striking a flashy pose; however, Skill Points slowly refill over time with no way to hasten their recovery rate manually.
Tagging
Tagging is a core battle mechanic in Azure Striker Gunvolt. Through "bolts," or weapons, he wields in battle, Gunvolt can mark enemies and objects with "tags." Enemies or objects that have been tagged can then be charged with Gunvolt's electrical abilities—even at a distance.
Enemies and objects can be marked with up to three tags.
Bolts permitting, multiple enemies and objects can be tagged at once.
雷撃鱗、Rai Geki Rin (Thunder Scales)
Gunvolt's inherent septimal ability and a core battle / platforming mechanic in Azure Striker Gunvolt used in tandem with the tagging mechanic. Enemies and objects that have been tagged by Bolts can be electrocuted through the activation of the Flashfield.
The Flashfield can also be activated mid-air to slow Gunvolt's descent to the ground as well as increase the lateral distance at which he can move as he descends. Lastly, the Flashfield can act as a physical barrier to enemy projectiles. Activating the Flashfield consumes EP.
Each additional tag opens up more channels through which electricity can flow, effectively increasing damage or electrical output.
Performing a dash-jump and then activating the Flashfield increases the speed at which Gunvolt can move laterally as he descends.
The Flashfield cannot shield Gunvolt from energy-based projectiles, such as lasers.
Should Gunvolt's EP become 0, he will temporarily overheat—preventing him from using the Flashfield. Neither quick-charging nor the skill "Septimal Burst" negate overheat. However, the skill "Split Second" can instantly restore Gunvolt's EP to max in the case of an Overheat.
Using the Flashfield while underwater or with most of his body submerged causes it to disperse and triggers overheat.
電磁結界(カゲロウ)、Electromagnetic Barrier (Heat Haze)
A special passive ability granted by some of Gunvolt's equipment. As long as Gunvolt has EP available to expel, any incoming attack is neutralized and lowers the EP meter instead of Gunvolt's health meter.
Thus, constant EP recharging grants Gunvolt pseudo-invincibility.
Prevasion will not activate if Gunvolt has the Flashfield active.
Even if Gunvolt avoids damage with Prevasion, one hit will break his Kudos.

Changed in the second game. Kudos can be kept for three hits or even permanently if so chosen.

Prevasion does not work against attacks that cause Chaff or Stone.
Prevasion does not work against instant-death attacks/cutscene attacks.
Flight
In addition to the Flashfield's gliding capabilities, when using certain equipment GV is capable of performing EP consuming air jumps and dashes.
Next Level
Following the dismantling of Eden's ambitions, Gunvolt awoke to the "Next Level", a stage above Septima that pushed his Azure Striker to the pinnacle and beyond. This power grew to the point where not even GV himself was able to control it, requiring him to be sealed by Sumeragi using 1000 Glaives. This also caused him to lose his human form, becoming a giant beast known as a Primal Dragon. It was only with the help of Shadow Yakumo's Battle Priestess Kirin that GV was able to safely harness this power, though he can only remain in human form as long as his seals remain stable, needing to otherwise spend time as a raijuu-esque canine.
With his Next Level powers, GV's Azure Striker has increased output and variety, though utilizing these abilities does strain GV's safety limiters, forcing him to become a raijuu again if he overdoes it. The exception is when Kirin falls in battle, in which case Lumen will activate Anthem to awaken GV, though this comes with its own risks. If GV loses control of his power and Kirin cannot quell it, there will be nothing to stop him from reverting to a Primal Dragon and going on a rampage...
Arc Unleash
Whenever GV takes the field, this skill always precedes his appearance. A flurry of Crashbolts strike the area, wiping out all foes in sight.
Flashfield (Constant) and Lock-on Flashfield
GV's Next Level Azure Striker always has Flashfield deployed, shocking any enemy or projectile that enters its radius. GV must instead retract it to focus its energies on tagged foes, which also slows his falling speed.
Spark Dash
Inspired by Copen's equipment and abilities, this skill allows GV to damage and tag enemies by dashing into them.
Lightning Assault
Similar to the Arc Chain ability bestowed on Kirin, GV can warp to any tagged foe and hit it with an electric burst. Unlike Kirin's Arc Chain, however, GV only targets one foe per input, rather than hitting them all in succession. The upside here is that as long as GV's tags are still active, GV can keep hitting the same target(s) until the enemy is defeated or the tags expire.
Voltaic Buster
A stronger version of Spark Dash is triggered by dashing into a foe with 3 tags applied to them. GV performs an electrified piledriver that obliterates the target and all foes on screen. This move can only be used on bosses when their HP is below a certain threshold. The exact limit varies depending on the remaining Fetters charge. Defeating a boss with Voltaic Buster counts for Skill Finish bonuses.
Flash Dart
Replaces GV's standard darts when Anthem is in effect. GV unleashes a shockwave that locks on to all foes in range.
Astrasphere Flashfield
Replaces GV's Flashfield when Anthem is in effect. Any time GV focuses his energy to zap tagged foes, he also emits a constant Astrasphere.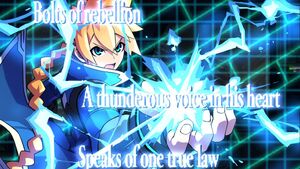 Voltaic Chains' incantation
As Gunvolt damages or defeats enemies, he gains experience and can potentially levels up. As he levels up, Gunvolt may learn new attacks that he can use in battle. Unlike normal attacks, these use SP, rather than EP, which take far longer to recharge, and are split into offensive skills, which can kill most enemies in one strike, and support skills, which can heal Gunvolt and buff his existing moveset.
Equipment
Main article: Equipment
Aside from his outfit and gun, through QUILL GV has an assortment of special equipment--eye contact lenses, pendants, and rings--which enhance his septimal powers and can unlock abilities he can't normally use on his own. In a home conversation on the subject, he notes that the rings are constructed out of a special metal and gems, and speculates they're similar to Sumeragi's glaives.
New-model Protect Armor
The New-model Protect Armor (新型プロテクトアーマー) is a strengthened protector which Xiao, who secretly supports GV, made-to-order exclusively for GV and which he procured. Apart from being very lightweight, it reacts to GV's septima and it can change strength and toughness, amongst other aspects.
It also can generate a special EM field to guard against the "Greed Snatcher" which made GV suffer in the past, but it can't fully block the effects. This defense is an application of the EM field produced by the Azure Striker. It uses data retrieved from Asimov's corpse (data which he left behind for GV just before his death) and the Dart Cartridges technology as a base.[4]
Dart Leader
Gunvolt's pistol, the Dart Leader (ダートリーダー), more properly known as the Fw-005 (TYPE-0) D:T/LEADER, is an exclusive firearm administered to him by QUILL, and is classified as an electromagnetic projectile weapon. Because its energy source is Gunvolt himself, there is no external power system installed.
Rather than bullets, the gun normally fires Bolts (避雷針カートリッジ, Lightning Rod (Dart) Cartridge, also known as 受雷針, Variant Lightning Rod (Dart)).
These bolts are created by combining a metal coating with strands of GV's highly conductive hair. As they are from his body, they correspond to his Flashfield's electricity; once a target is "tagged" by a bolt, an arc of lightning will be discharged from the Flashfield directly at it.
According to concept art notes, the gun uses magnets attached on the bottom of the barrel to accelerate the bolts and increase their strength. A sensor on top of the gun automatically calculates the distance to the target and calibrates the firing speed accordingly. As the bolts fly, pieces break off from their rear, resembling feathers being shedded.
Since the gun's main purpose is to guide lightning, its output's restricted, but if Gunvolt connects the "tail-plug" equipped on his hair into the rear connector then it can directly fire a powerful septima as well.
In truth, if the muzzle size matches, the Dart Leader is capable of shooting conventional bullets or pebbles, and can even be used as a wire hanger. However, Gunvolt's physical abilities are so high that this is almost never used.[5]
Following GV's departure from QUILL, he had to do maintenance by himself. However, once he got into contact with Xiao he was able to completely overhaul it. The basic structure is unchanged, but gun calibration aiming to stabilize the output and cooldown has been carried out. And, also, as a result of increasing the thunder transmission efficacy, the indicators now glow in a blue color.[6]
Boss Battle Attacks
Normal
Attack
Description
Dart Leader
ダートリーダー
Flashfield
雷撃鱗
Thunder Scales
GV's standard attack. He fires a round of four needles straight forward while standing still or walking forward. Alternatively, he can jump and shoot, launching one needle in the air and one on the ground. If three tags are inflicted, GV will shock you with the Flashfield. If GV is suffering overheat, upon the third tag connecting he will use Split Second to recharge his EP.

Just like when playing as him, Gunvolt can have up to three tags on you at once for increased damage.
Damage Output (Darts): 10 each.
Damage Output (Flashfield): 60

GV will also dash around the battlefield at various points in the fight for better positioning and to try and inflict contact damage.

Dragonsphere
霆龍玉
Thunderclap Dragon Sphere
GV creates an orb of electricity that lingers in the air for a few seconds. Damages on contact. Ignores Prevasion.
Luxcalibur
スパークカリバー
Spark Calibur
"Sacred sword agleam / Barbarous and bathed in blue / Cleaving right from wrong! Luxcalibur!"

Gunvolt's Special Skill. Creates a gigantic electric sword in front of GV's current position that deals damage on contact. Ignores Prevasion.
Anthem
Attack
Description
Prevasion
電磁結界
Electromagnetic Barrier (Heat Haze)
Under the effects of Anthem, GV has unlimited Prevasion. The only way to cancel this is to hit GV with Hydro Zapper or Shred Storm, both of which cause him to overheat.

GV will instantly recharge if hit with Stellar Spark.

Luxcalibur Launcher
スパークカリバーシュート
Spark Calibur Shoot
Gunvolt creates a Luxcalibur and launches it forward. Ignores Prevasion.
Astrasphere Mandala
ライトニングスフィア曼荼羅
Lightning Sphere Mandala
GV casts Astrasphere in midair, covering a large portion of the screen and dealing notable damage. When the move ends, the 3 lightning orbs spiral outwards. Ignores Prevasion.

The launch timing differs in between Japanese and English version; if set game language to Japanese, Korean, Traditional Chinese, or Simplified Chinese GV will use Japanese variation of this move, while the rest of the languages uses English variation.

Damage Output (Sphere): 45
Damage Output (Orbs): 55

Voltaic Chains Thunder
ヴォルティックチェーンサンダー
Voltaic Chain Thunder Crashbolt
吼雷降
Roaring Thunder Fall
GV creates columns using Voltaic Chains before charging them with electricity. As the chains shatter and fade, Crashbolts will strike the spaces inbetween where the chains didn't reach. Ignores Prevasion.

Damage Output (Chains): 50
Damage Output (Crashbolts): 40

Septimal Surge
アンリミテッドヴォルト
Unlimited Volt
Let this joyous song / Ring forth as a dragon's roar / And grant the spark's gift! Septimal Surge!

Gunvolt's Special Skill while under Anthem. GV is enveloped in a yellow aura and gains doubled attack power for the rest of the battle.
EX Frozen City
Gunvolt will begin the battle in his normal Anthem state. Upon entering his third phase, he will use Septimal Surge, this time drastically changing his skills and enhancing his defenses.
Attack
Description
Astrasphere Launcher
Gunvolt creates an Astrasphere Mandala, and slowly launches the entire thing at the player before the three lightning spheres disperse.

The Japanese/English launch timing difference of regular Sphere also applied here.


Luxcalibur Mandala
Three Luxcaliburs are launched from Gunvolt's front, top, and rear, leaving behind trails of Dragon Spheres in their wake. The Dragon Sphere trails then rotate from his front to his back.

Voltaic Chains Thunder
In addition to the vertical chains, diagonal chains are deployed in an X formation that forces jumping to avoid the current. This is then followed by three waves of Crashbolts which target the player's position and spread outwards, forcing well timed bullit dashing back and forth across the screen.
Septimal Surge
アンリミテッドヴォルト
Unlimited Volt
GV will recast this skill again if his life bar is reduced beyond the second "S" of "BOSS" label while he's in the cooldown time between attacks. This time it functions like Galvanic Renewal, restoring all of his health, including the two gauges that were cut down in his normal Anthem mode. GV remains in his ultimate form as his health is reset, making this basically an auto-loss for any player who doesn't possess great skill.

GV will trigger this healing move infinitely (fitting its Japanese name "Unlimited Volt"), which means precise control of his HP is required during this fight - the final bit of EX GV's HP must be removed in during his attacks and with a Shred Storm as the finishing move while EX GV is caught off guard.
Primal Dragon
Attack
Description
Crashbolt Rain
GV will mark certain areas of the field with small lightning bolts. About 3 seconds later, Crashbolts will strike the marked areas.

On Hard Mode and above, this move will also electrify the floor.

Dragonsphere Blast
GV charges electricity in his horns while marking either the floor right in front of him or at the back of the arena. A few seconds later, a giant electric orb will form and slowly sweep toward or away from GV depending on its starting position. Both the orb on the floor and the one on GV's horns inflict contact damage.

On Hard Mode and above, the large orb will also shoot Dragonspheres upward as it travels along the floor.

Lightning Breath
GV's pseudo-Special Skill (does not have a cut-in or chant). GV will lower his head and charge up a lightning blast from his mouth, which spews forth in a cone. The main safe spot is right in front of GV.

On Hard Mode and above, this move will fire additional blasts upwards and downwards. It also becomes a regular move that he'll use even before his final phase.
Possessed GV
Attack
Description
Astral Order
GV's first Skill under the influence of Moebius. Astral Order rewrites the dimensional space into one that slowly saps Kirin's health until death. GV is invincible and cannot be tagged while this skill is in effect.
Octis Veto

VVVVVVVV

GV's second Skill under the influence of Moebius. Covering the floor and walls of the arena in Voltaic Chains, GV surrounds himself in electricity and electric bars orbit around him. Dodging this technique requires mastery of Arc Chain and being able to properly position yourself.
Quotes
Boss Battle Lines
Normal Battle
Event
English
Romaji
Japanese
Flashfield

Flashfield!


(Overheat)

Split Second!

Raigekirin!
(Overheat) Chaajingu appu!
雷撃鱗
(Overheat) チャージングアップ!
Dragon Sphere

Dragon Sphere!

Teiryuugoku!
霆龍玉
Luxcalibur

Oversurge, Azure Striker! Luxcalibur!

Hotobashire, aoki raitei (aamudo buruu) yo! Supaaku karibaa!
迸れ、蒼き雷霆よ!スパークカリバー!
1st Phase Down

There's no other way around…!

Yaru shika nai no ka…!
やるしかないのか…!
2nd Phase Down

It won't end here…!

Konna tokoro de…!
こんな所で…!
Defeated

Too strong…!

Tsuyoi…!
強い…!
Anthem
| Event | English | Romaji | Japanese |
| --- | --- | --- | --- |
| Astrasphere Mandala | Destroy them! Astrasphere! Mandala*! | Uchikudake! Raitoningu sufia! Mandaraa! | 打ち砕け!ライトニングスフィア!マンダラー! |
| Luxcalibur Launcher | Rip them! Luxcalibur! Launcher! | Kirisake! Supaaku karibaa! Shuuto! | 切り裂け!スパークカリバー!シュート! |
| Voltaic Chains | Tangle! Voltaic Chains! Thunder! | Karamitore! Vorutikku cheen!! Sandaa! | 絡み取れ!ヴォルティックチェーン!!サンダー! |
| Septimal Surge | Oversurge, Azure Striker! Septimal Surge! | Hotobashire, aoki raitei (aamudo buruu) yo! Anrimittedo voruto! | 迸れ、蒼き雷霆よ! アンリミテッドヴォルト! |
| 1st Phase Down | You won't stop…!? | Guu! Tomaranai no ka…! | 止まらないのか…! |
| 2nd Phase down | Joule…! Grant me further strength… | Shian… Boku ni chikara wo…! | シアン…僕に力を…! |
| Defeated | Guh... | Guu… | ぐっ… |
The mandala is a concentric diagram that has significant spiritual significance in Buddhism, which is practiced by a majority of the Japanese population. Concentric refers to circles, arcs, or other shapes which share the same center, the larger often completely surrounding the smaller. As the Astrasphere attack has large orbs which circle and shoot out from the center, Gunvolt yelling "Mandala" is a reference to the diagram's similarity with Astrasphere.
Special Skill Chants
Astrasphere:
Luxcalibur:
Voltaic Chains:
Grand Strizer:
Septimal Surge:
Astral Order
Octis Veto
Appearances in other media
Playable appearances
Gunvolt is an unlockable character in the 2015 game Runbow.
Gunvolt is one of the playable guest characters in Blaster Master Zero.
He is one of the playable characters in the crossover fighting game Blade Strangers.[7]
Gunvolt is set to appear to be a playable character in Indie Pogo.
Designer Comments
Source: Armed Blue: Gunvolt Complete Works
Early Draft
In 2013 an early draft of Gunvolt's character concept was submitted to Nintendo[8], with a number of factors that were changed in the final version. Below is a translation of the submission contents.
Big text: A hero which elementary and middle school students can project themselves onto.
Red text, upper right: Document for internal use only
White text above Feather (QUILL) logo: Protagonist
Slogan (right side, inside of orange frame): "I decide why I rebel (fight)!"
Gun description: The gun's name is "Angel-summoning bell" (Angel Bell). It's an EM accelerator gun, and shoots metallic bullets named "Feather Bullets (Feathers)". It uses a battery, which can be recharged by GV's long braid-shaped hair. By attaching parts to it, it can shoot different types of bullets too. When it needs more power for those modes, (he) connects his hair to it and sends electricity to it (directly). GV's exclusive gun. *Design subject to changes.
Description: Codename "GV" (Gunvolt) Real name: Unknown / 14 years old / Male / One quarter non-Japanese descent. He was implanted with the 7th Wave (Lightning Ability Factors) during his infancy during an experiment of the Sumeragi-Ou Concern and awakened the ability. He was then rescued by Feather and trained for several years until he became a (fully-fledged) member. He employs lightning-based attacks to fight. He normally is kind, reserved and adult-like, but also optimist and he shows a young-like attitude sometimes by pulling small pranks.
Trivia
Gunvolt's battle style is depicted on his name - utilizing guns and volts.
In the track Shiden's Reminiscence of the drama CD Justice Rage, one of the Sumeragi scientists almost reveals Gunvolt's real name, before being cut off by Nova's inner monologue.
Gunvolt is one of the three known participants of Project Gunvolt, the others being Asimov and Nova.

Gunvolt and Asimov were the only ones to fully control the Azure Striker septima while Nova couldn't.

According to a conversation he has with Joule, he has bad vision and wears contacts. This explains why, in the anime and other media, Gunvolt is seen wearing glasses.
In Blade Strangers, his 2nd color option gives him a color scheme resembling his rival, Copen. His other color schemes include Elise, Stratos, Jota and Asimov's colors, and Hard Mode.
Gunvolt in Azure Striker Gunvolt 2 is the first Adept midboss in the series.
Gunvolt is one of the two bosses in the second game where Copen doesn't say "It's time to ______" when battling him; the other is Fake Zonda.
In an earlier draft for the second game, Gunvolt was intended to be the main villain and final boss, having allied with Sumeragi. Beating the game would have unlocked him as a playable character.

The idea of an Azure Striker allied with Sumeragi wearing a mask would later be revisited in Luminous Avenger iX with Blade.
Also, in Luminous Avenger iX, the concept of an Azure Striker as the main villain and final boss is revisited as Demerzel.
The concept of Gunvolt allied with Sumeragi however would return in Azure Striker Gunvolt 3.
References