Welcome to the Azure Striker Gunvolt Wiki
You can find everything about the Azure Striker Gunvolt games here and join the community in our Discord!
Please consider reading our rules to understand our standards and visit the Samples to understand how to create new pages (not necessary if you're already experienced with wiki editing).
Also be sure to check out our Staff Team to know who helps keep the wiki up and running!
The community is always growing, and with your help it can turn into the ultimate knowledge website of the Azure Striker Franchise. Remember to always be nice, and feel free to edit! Be sure to watch the Community Portal to see what pages in the Wiki require editing!
Navigation
Featured Article
"Get ready for the apeX of 2D action!"
—Tagline
Gunvolt Chronicles: Luminous Avenger iX, known in Japan as White Steel of X: THE OUT OF GUNVOLT (「白き鋼鉄のX(イクス)THE OUT OF GUNVOLT」), and also known by various shorthands such as Luminous Avenger iX, iX and LAiX, is a game developed by Inti Creates for the Nintendo Switch, PS4, Xbox One and Steam, released worldwide on the 26th of September, 2019, with an early release on the 24th in select territories.
Described as the "start of a new spin-off series", iX features Copen as the main protagonist, who returns alongside his gameplay from Azure Striker Gunvolt 2, more refined than ever before. For the full article, see here.
News
30/01/2020: A PS4 port of the Striker Pack has been announced, schedualed for release April 23th!
19/11/2019: DLC has been released for Luminous Avenger iX, including a new song and a new Versus Mission! Purchase them before New Years Day to get them free of charge!
29/11/2019: Copen from Luminous Avenger iX has been released as the first DLC character for Blaster Master Zero 2! Get him for free for the first three weeks!
26/09/2019: Get ready for the ApeX! Gunvolt Chronicles: Luminous Avenger iX has been released worldwide on Nintendo Switch, PlayStation 4 and Steam!
24/09/2019: Gunvolt Chronicles: Luminous Avenger iX has been released in Korea, Hong Kong and Taiwan!
05/09/2019: iX has been confirmed to be coming to the Xbox One!
23/08/2019: A physical version of iX has been announced by Limited Run Games, including a Collector's Edition!
21/08/2019: The final two Falcons have been revealed! Say hello to Isola "Falcon★Idol" and Bakto "The Leonian Tempest"!
31/07/2019: Mighty Gunvolt Burst releases on Steam!
24/07/2019: Two new Falcons have been revealed: Stella "The Sudarshana Gravity Well" and Dystnine "Altair of Vengeance"!
09/07/2019: Kyota, Jin and Maria, three new iX characters, have been revealed!
04/07/2019: A Steam port for Mighty Gunvolt Burst has been announced for the 31st of July!
Discord
If you see this, your JavaScript might be disabled or DiscordIntegrator plugin isn't working. If the latter, please contact a wiki administrator.
Affiliations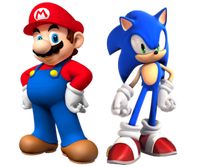 Community content is available under
CC-BY-SA
unless otherwise noted.