Welcome to the Azure Striker Gunvolt Wiki
You can find everything about the Azure Striker Gunvolt games here and join the community in our Discord!
Please consider reading our rules to understand our standards and visit the Samples to understand how to create new pages (not necessary if you're already experienced with wiki editing).
Also be sure to check out our Staff Team to know who helps keep the wiki up and running!
The community is always growing, and with your help it can turn into the ultimate knowledge website of the Azure Striker Franchise. Remember to always be nice, and feel free to edit!
Navigation
Featured Article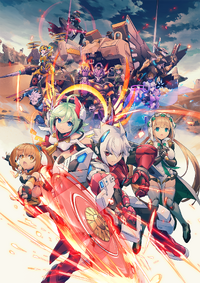 "Break into the new apeX of 2D action!"
—Tagline
Gunvolt Chronicles: Luminous Avenger iX 2, known in Japan as White Steel of X 2 (「白き鋼鉄のX(イクス)2」), is a game being developed by Inti Creates for the Nintendo Switch, PS4, PS5, Xbox One, Xbox Series S, and Steam, set to be released worldwide on January 27th, 2022.
The second game in the "Gunvolt Chronicles" series and a direct sequel to Luminous Avenger iX, Luminous Avenger iX 2 once again features Copen as the main protagonist, who returns with new gameplay features.
For the full article, see here.
News
Sep 3 2021: As part of their collaboration with Inti Creates, studio Gemdrops reveals that Copen will appear as a guest playable character in their game COGEN: Sword of Rewind.
Sep 1 2021: Gunvolt Chronicles: Luminous Avenger iX 2 has been announced!
Mar 4 2021: NGPX stream. Inti Creates showcases extensive footage of the demo online, releases an update video on ASG3's development, and reveals that the game is coming in 2022. Hiroki Miyazaki, the director of the Bloodstained: Curse of the Moon series, has also been revealed to be the game's action director. Video: https://www.youtube.com/watch?v=-1i1GYafV54
Dec 28 2020: 4gamer.net publishes an article about the end of year comments of various game industry figures, including Aizu, Tsuda, and Miyazawa of Inti Creates. Featured in the sections of the former two are five screenshots from the ASG3 demo, including the reaper boss' SP skill artwork. A translation of their comments can be found here. (Note: Regarding GV3 details, there is only a mention that Kirin's gameplay could change greatly from the demo.)
Nov 29 2020: The Digital Games Expo reveals a red and turtle-like banchō motif boss who focuses on martial arts, an oil refinery platform stage, and some new details about Kirin's gameplay. Further info can be found on the Azure Striker Gunvolt 3 page. As recording was prohibited, there are no new images and this information comes from the reports of those who played the demo.
Oct 20 2020: An Inti Creates stream has revealed a number of announcements and given a glimpse into ASG3 development, most notably teasing what appears to be a bat-like, ghostly, scythe wielding boss. Screenshots can be found on the ASG3 Gallery page.
Jun 26 2020: Azure Striker Gunvolt 3 has been announced!
Jun 21 2020: Azure Striker Gunvolt 2 has been released on Steam!
Jan 30 2020: A PS4 port of the Striker Pack has been announced, scheduled for release April 23th!
Dec 19 2019: DLC has been released for Luminous Avenger iX, including a new song and a new Versus Mission! Purchase them before New Years Day to get them free of charge!
Nov 29 2019: Copen from Luminous Avenger iX has been released as the first DLC character for Blaster Master Zero 2! Get him for free for the first three weeks!
Sep 26 2019: Get ready for the ApeX! Gunvolt Chronicles: Luminous Avenger iX has been released worldwide on Nintendo Switch, PlayStation 4 and Steam!
Sep 24 2019: Gunvolt Chronicles: Luminous Avenger iX has been released in Korea, Hong Kong and Taiwan!
Sep 5 2019: iX has been confirmed to be coming to the Xbox One!
Aug 23 2019: A physical version of iX has been announced by Limited Run Games, including a Collector's Edition!
Discord
If you see this, your JavaScript might be disabled or DiscordIntegrator plugin isn't working. If the latter, please contact a wiki administrator.
Affiliations