Welcome to the Azure Striker Gunvolt Wiki
You can find everything about the Azure Striker Gunvolt games here and join the community in our Discord!
Please consider reading our rules to understand our standards and visit the Samples to understand how to create new pages (not necessary if you're already experienced with wiki editing).
Also be sure to check out our Staff Team to know who helps keep the wiki up and running!
The community is always growing, and with your help it can turn into the ultimate knowledge website of the Azure Striker Franchise. Remember to always be nice, and feel free to edit! Be sure to watch the Community Portal to see what pages in the Wiki require editing!
Navigation
Featured Article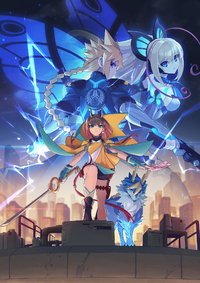 "Fates are sealed as paradigms shift and a new era unfolds. What lies beyond the path toward hope?"
—Tagline
Azure Striker Gunvolt 3, known as Armed Blue: Gunvolt 3 /// Gibs (蒼き雷霆 ガンヴォルト 鎖環) in Japan, is an upcoming game produced by Inti Creates in development for the Nintendo Switch, and marks the return of the mainline Azure Striker Gunvolt series since 2016's Azure Striker Gunvolt 2.
Gunvolt once again returns as a playable character, with a significant overhaul to his moveset. Joining him is a new playable character named Kirin, who uses a mix of ranged and melee attacks with her sword and enchanted talismans.
For the full article, see here.
News
July 20th: Steam port of Azure Striker Gunvolt 3 announced for Winter 2022.
July 1st through 4th: Inti Creates attends the Anime Expo 2022 at the Los Angeles Convention Center, booth #411, with an English demo of Gunvolt 3 and event exclusive merchandise, including Japan-only physical versions of the games.
June 29th: Xbox Series and Xbox One ports of the Azure Striker Gunvolt series were announced, with Gunvolt 1 released, Gunvolt 2 coming on July 15th, and Gunvolt 3 coming on August 2nd. A new 3D music video, Liberator, was also released along with information on GV3 antagonist faction ATEMS.
June 15th 2022: Following fan support, the Luminous Avenger iX 2 Soundtrack has at last been announced.
May 17th 2022: A full English dub for Gunvolt 3 has been announced! (Click here to view the dub trailer)
March 30 2022: Azure Striker Gunvolt 3 is revealed to be coming out on July 28th, 2022. A premier trailer has also been released alongside demo footage at NGPX, revealing new plot info and teasing new boss characters. Despite his departure from Inti Creates, Matt Papa will continue working on GV3.
March 9 2022: The teaser for the Gunvolt News Channel #39 stream, set to air on March 23rd, strongly implies that Kirin will be the final DLC boss of LAiX2, and reveals her voice actress is Yū Sasahara.
Feb 10 2022: Localization director Matt Papa announces his departure from Inti Creates. (A month later he revealed his new job is at Limited Run Games).
Jan 27 2022: Gunvolt Chronicles: Luminous Avenger iX 2
Dec 8 2021: In a first for the series, an English dub of LAiX2 has been announced (Trailer). A Limited Run Games release was also announced.
Sep 1 2021: Luminous Avenger iX 2 announced.
Mar 4 2021: NGPX stream. Inti Creates showcases extensive footage of the demo online, releases an update video on ASG3's development, and reveals that the game is coming in 2022. Hiroki Miyazawa, the director of the Bloodstained: Curse of the Moon series, has also been revealed to be the game's action director. Video: https://www.youtube.com/watch?v=-1i1GYafV54
Discord
If you see this, your JavaScript might be disabled or DiscordIntegrator plugin isn't working. If the latter, please contact a wiki administrator.
Affiliations