For the original game in the series, see Azure Striker Gunvolt
For the overall franchise, see Azure Striker Gunvolt (franchise)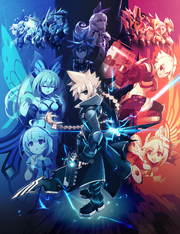 Azure Striker Gunvolt, known as Armed Blue: Gunvolt (蒼き雷霆 ガンヴォルト Amudo Burū Gan'voruto) in Japan, also simply known as "The Main Series", is a video game series of action-platformers created and directed by Yoshihisa Tsuda and developed by Inti Creates as the progenitor series of the larger Azure Striker Gunvolt franchise. The first game, Azure Striker Gunvolt, was initially released for the Nintendo 3DS eShop on the 20th of August, 2014 in Japan, before spreading to the rest of the world in the following months.
The series takes and builds a similar formula to the "Mega Man Zero" series, which Inti also developed, with a "tagging" mechanic that adds a layer of complexity. The series takes place in the near future of Japan, where a breed of superhumans known as Adepts have emerged. The main protagonist is the titular Gunvolt, a powerful Adept who has the power to control electricity, and the series follows him as he attempts to settle the differences between Humanity and Adepts. As the series goes on, other playable characters are introduced, like Copen and Kirin, and the story becomes more layered and complex.
Games
Related
Drama CDs
In addition to games, several drama CDs have been released. These often focus on events that happen outside or before the main plot, existing to help flesh out the world and the characters that inhabit it.
Other Media
Animation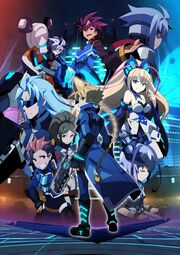 A 22-minute OVA known as Azure Striker Gunvolt: The Anime was released on the Nintendo 3DS eShop on February 9th, 2017, animated by LandQ Studios. It is an adaptation of 1st Sumeragi, the opening stage of the first game, however with added scenes and major changes. It features the Japanese cast from the games reprising their roles, but also featured an English dub, a first for the franchise.
Literature
Azure Striker Gunvolt: Fleeting Memories is a serialized web novel written by series writer Toshiaki Tai, published on the Inti Creates website. The story acts as a prequel to the games, as well as a means of explaining the world, focusing on Lifewave, Dr. Kamizono and the Sumeragi Group.