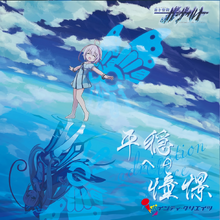 Admiration to Peace (平穏への憧憬 Heion e no Doukei) is one of the three drama CDs released for Azure Striker Gunvolt, the others being Justice Rage and Lazy Kingdom.
Unlike the other two, this drama CD has little ties to the series main storyline, and serves to flesh out the characters of QUILL through these slice-of-life stories. There are also several karaoke versions of Lumen's songs.
Although the CD is currently not available outside of Japan, a rough fan translation exists.
Tracklist
1. Reminiscence: As Joule is about to fuse herself with GV, she thinks back on some of the moments she experienced, in that freedom that couldn't last...
2. Peace: While Gunvolt is away, Joule wants to do something for him. Perhaps writing a song will do?
3. Complication: Unable to make a song for GV, Joule decides to clean the house instead. Then she finds GV's QUILL uniform, and...
4. Prayer: Hearing about a shrine famous for its marriage charms, Joule makes her way to get one. Along the way, she meets two very familiar people...
5. Ninja Arts: Moniqa asks Asimov about a report on GV's mission in the Biochem Plant. Sumeragi employs ninjas?!
6. Cooking: Gunvolt wonders what he should have for dinner. Then Joule comes in, volunteering to take over...
7. Karaoke: Zeno invites GV and Joule to go karaoke. Unexpectedly, Asimov and Moniqa join in as well.
8. Residual Song: Her reminiscing over, Joule follows GV as he leaves Babel, as azure fades into the twilit sky.
9. Find Out! ~ Compass of Hope ~: The song Moniqa and Asimov sing during Karaoke. It's a duet~
10. Cyanotype: The song Joule made for GV. What if Joule's theme had lyrics?
References
See also