Welcome to the Azure Striker Gunvolt Wiki
You can find everything about the Azure Striker Gunvolt games here and join the community in our Discord!
Please consider reading our Rules to understand our standards and visit the Samples to understand how to create new pages (not necessary if you're already experienced with Wikia Editing).
The community is always growing, and with your help it can turn into the ultimate knowledge website of the Azure Striker Franchise. Remember to always be nice, and feel free to edit! Be sure to watch the Community Portal to see what pages in the Wiki require editing!
---
Featured Article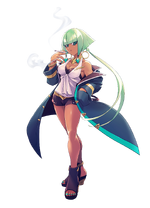 "Now beat it. D'aint no one else who can do this but me. Got a little "promise" with Sumeragi, y'know."
—Stella, Luminous Avenger iX

Stella,"The Sudarshana Gravity Well", also known in Japan as "The Sudarshana Gravity Well", Intels (重力井戸のスダルシャナ"インテルス Juuryokuido no Sudarshana Interusu), is one of the elite Falcons serving Sumeragi and one of the antagonists of Gunvolt Chronicles: Luminous Avenger iX.
The young, confident president of a powerful manufacturing company, Stella ended up serving as one of Sumeragi's Falcons to protect her android assistant Dystnine, the only one to whom she'll open up. She has an affinity for the Gravity Septima, which allows her to alter the gravity of her surroundings and control their moments. See the full article here
---
News
31/07/2019: Mighty Gunvolt Burst releases on Steam!
24/07/2019: Two new Falcons have been revealed: Stella "The Sudarshana Gravity Well" and Dystnine "Altair of Vengeance"!
09/07/2019: Kyota, Jin and Maria, three new iX characters, have been revealed!
04/07/2019: A Steam port for Mighty Gunvolt Burst has been announced for the 31st of July!
26/6/2019: Two of the bosses from Luminous Avenger iX, "The Falcons", have been revealed: Rebellio "The Craftsman's Dream" and Crimm "The Explosive Artiste"!
1/6/2019: The official trailer for Luminous Avenger iX has been revealed, and the game is expected to release on the 26th of September!
26/12/2018: The designs for the seven main bosses of LAiX are teased, alongside an expected release date of Holiday 2019!
12/05/2018: Gunvolt Chronicles: Luminous Avenger iX, the start of a new spin-off series, is announced!

---
Affiliations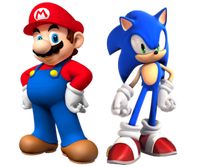 Community content is available under
CC-BY-SA
unless otherwise noted.